DAF flotation principle
The process separates the solid phase from the liquid phase. Substances dispersed in water (impurities from surface waters, microorganisms) are precipitated into flakes by the addition of coagulant, which are then carried out by a stream of air microbubbles. A floating layer of sludge foam forms on the surface of the tank, which is removed, e.g. by wiping.
The ascending velocity of the flakes thus formed and entrained in the air is one to two orders of magnitude higher than the sedimentation velocity of these flakes. Thanks to this, it is possible to work with flotation with a higher surface load compared to simple settling.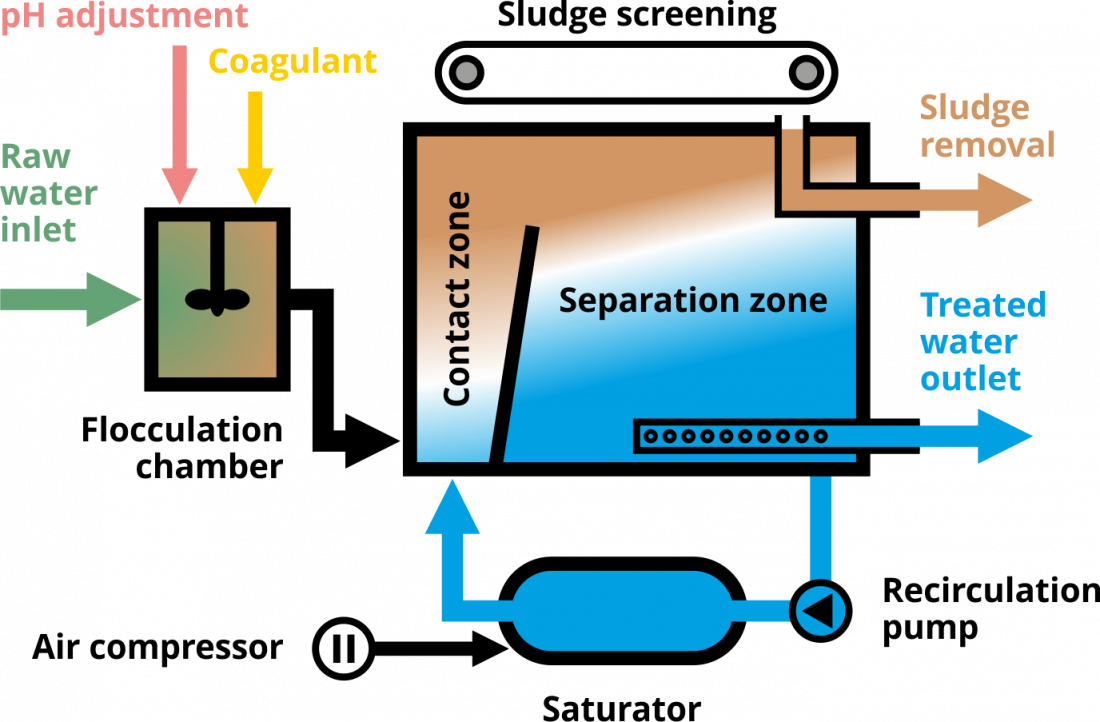 Benefits
High value of surface load.

High separation efficiency even for poorly settled particles.

Higher quality of treated water.

 

Reduction of the load of the next separation stage.

Fast start of flotation when it is shut down.

 

Efficient and economical operation.

 
Assumed pollution removal efficiency for wastewater
Flotation significantly reduces especially extractable pollution (fats), and the reductions in the indicators of organic pollution BOD5 and COD are also significant. The achieved pollution reduction efficiencies are shown in the following table.
Achieved reduction efficiency
| | | |
| --- | --- | --- |
| Pointer | physical flotation(no coagulant) | chemical-physical flotation (with coagulant) |
| ES | 60 - 75%    | 80 - 90% |
| US | 60 - 75%   | 80 - 90% |
| BOD5 | 25 - 40%  | 55 - 65% |
| CHSK | 25 - 40% | 55 - 65% |
(ES = extractable substances, US = undissolved substances, BSK5 = biological oxygen demand in 5 days, CHOD = chemical oxygen demand)
Design of a flotation unit for water treatment
We will tailor-make the solution according to the specific operating conditions - we will provide field tests directly at the place of need and then we will design the size and configuration of the technology, including suitable chemicals.
Important design parameters are the required flow of the equipment, the specification of pollution at the inlet and the required parameters of the treated water at the outlet. Contact us for more information.
Number 1 on the market
We treat drinking water for more than 4,500,000 inhabitants and treat waste water from over 1,000,000 EP.
More than 25 years of experiences
We have been supplying high quality products and services for a quarter of a century.
Implementations
We have thousands of successful implementations and hundreds of thousands of satisfied customers.
Turnover
Sales of our products and services in 2022.
Worldwide representatives
We operate in many abroad countries. Currently we have sales representatives in more than 10 countries and new challenges are still awaiting us.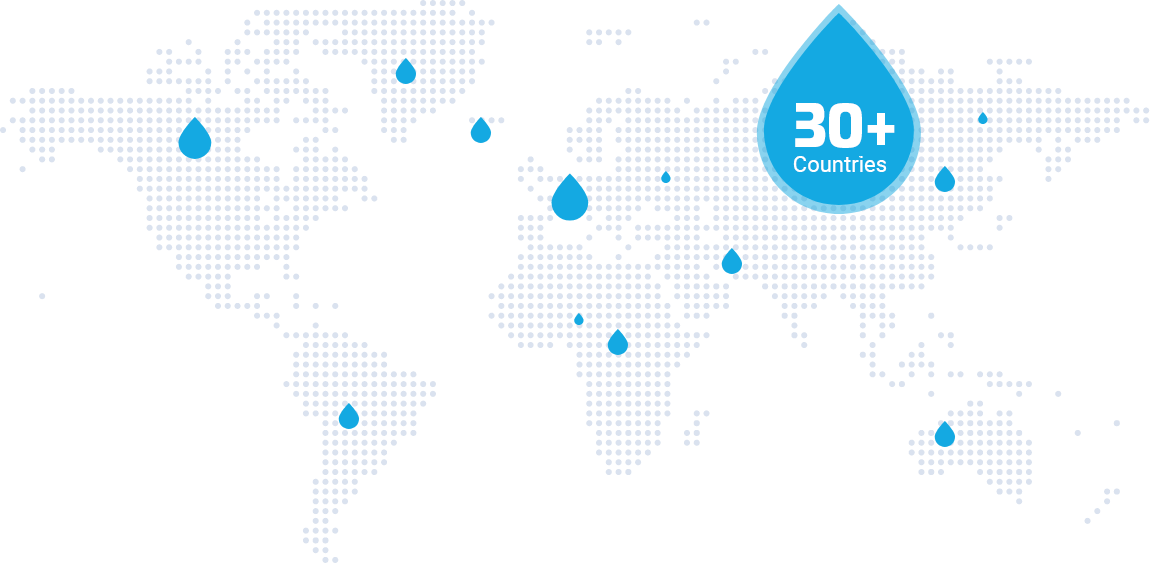 We will be happy to help you
If you have any questions, our experts will help you immediately.